Sennelier Oil Pastels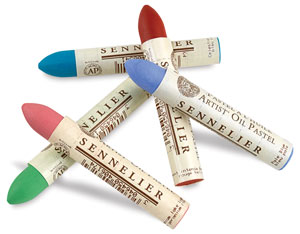 In 1949 Pablo Picasso asked Henri Sennelier to create a completely new medium that had the qualities of oil paint and soft pastels in an easy to apply stick form. Picasso told Henri

"I want a colored pastel that I can paint on anything... wood, paper, canvas, metal without having to prepare the surface."

This collaboration gave birth to Sennelier Oil Pastels. Simply pure intense color drawing sticks with a creamy consistency and smoothness.
120 sensual, luminous and opaque colors
Creamy, smooth and supple
The perfect plein aire medium
For paper, canvas, metal, wood, ceramic, and board
Can be thinned with turpentine
Lightfast, non-toxic, and acid-free
Transparent Medium 221

$3.70

---




White 001

$3.70

---




Naples Yellow 021

$3.70

---




Nickel Yellow 201

$3.70

---




Lemon Yellow 019

$3.70

---




Gold Yellow 022

$3.70

---




Yellow Lake 074

$3.70

---




Yellow Deep 020

$3.70

---




Luminous Yellow 233

$3.70

---




Bright Yellow 018

$3.70

---




Mandarin 200

$3.70

---




Chinese Orange 090

$3.70

---




Vermilion 038

$3.70

---




Red Light 029

$3.70

---




Permanent Intense Red 220

$3.70

---




Ruby Red 031

$3.70

---




Red Deep 030

$3.70

---




Bordeaux 008

$3.70

---




Rose Ochre 230

$3.70

---




Coral 236

$3.70

---




Geranium Lake Light 202

$3.70

---




Pink 028

$3.70

---




Purple 027

$3.70

---




Pale Pink Madder Lake 077

$3.70

---




Cobalt Violet Light Hue 095

$3.70

---




Cobalt Violet Light 217

$3.70

---




Parma Violet 216

$3.70

---




Blue Violet 047

$3.70

---




Violet Alizarin Lake 076

$3.70

---




Red Violet 048

$3.70

---




Ash Blue 207

$3.70

---




Sky Blue 226

$3.70

---




Cerulean Blue 003

$3.70

---




Celestial Blue 219

$3.70

---




Phthalo Blue 222

$3.70

---




Blue Alizarin Lake 075

$3.70

---




Midnight Blue 211

$3.70

---




Azure Blue 002

$3.70

---




Blue Chromium Green 084

$3.70

---




Pale Blue 006

$3.70

---




Indian Blue 225

$3.70

---




Delft Blue 203

$3.70

---




Royal Blue 227

$3.70

---




Cobalt Blue 004

$3.70

---




French Ultramarine Blue 237

$3.70

---




Ultramarine Blue 005

$3.70

---




Prussian Blue 007

$3.70

---




Indigo Light 080

$3.70

---




Turquoise Blue 206

$3.70

---




Bright Turquoise 082

$3.70

---




Prussian Green 218

$3.70

---




Celadon Green 214

$3.70

---




Green Yellow Light 072

$3.70

---




Moss Green 205

$3.70

---




Barite Green 040

$3.70

---




Cobalt Green Light 043

$3.70

---




Olive Green 046

$3.70

---




Sap Green Light 088

$3.70

---




Phthalo Green Light 086

$3.70

---




Cinnabar Yellow Brown 204

$3.70

---




Cinnabar Green Yellow 042

$3.70

---




Permanent Green Light 234

$3.70

---




Green Medium 045

$3.70

---




Cinnabar Green Deep 041

$3.70

---




Viridian Green 044

$3.70

---




Chrome Green Medium 085

$3.70

---




Pine Green 213

$3.70

---




Chromium Green Deep 039

$3.70

---




Charcoal Blue 235

$3.70

---




Sap Green 087

$3.70

---




Titanium Buff 099

$3.70

---




Chrome Brown 242

$3.70

---




Brown Ochre 241

$3.70

---




Havana Ochre 215

$3.70

---




Earth Brown 243

$3.70

---




Brown Pink 094

$3.70

---




Olive Brown 210

$3.70

---




Sennelier Brown Light 093

$3.70

---




Orange Ochre 238

$3.70

---




Flesh Ochre 025

$3.70

---




Terra Cotta 232

$3.70

---




Gold Brown 231

$3.70

---




Light English Red 240

$3.70

---




Violet Ochre 209

$3.70

---




Mummy 212

$3.70

---




Yellow Ochre 026

$3.70

---




Mars Orange 208

$3.70

---




Raw Sienna 037

$3.70

---




Chrome Red 091

$3.70

---




Red Brown 239

$3.70

---




Venetian Red 032

$3.70

---




Brown Madder 092

$3.70

---




Burnt Sienna 036

$3.70

---




Raw Umber 035

$3.70

---




Burnt Umber 034

$3.70

---




Sepia 033

$3.70

---




Light Gray 223

$3.70

---




Blue Gray 011

$3.70

---




Pale Grey 014

$3.70

---




English Grey 229

$3.70

---




Yellow Grey 013

$3.70

---




Grey Green 016

$3.70

---




Reddish Brown Grey 015

$3.70

---




Medium Grey 224

$3.70

---




Violet Grey 017

$3.70

---




Gray Deep 012

$3.70

---




Charcoal 228

$3.70

---




Payne's Gray 096

$3.70

---




Mars Black 098

$3.70

---




Black 023

$3.70

---




Iridescent White 125

$3.70

---




Aluminum 111

$3.70

---




Pale Gold 112

$3.70

---




Rich Pale Gold 113

$3.70

---




Rich Gold 114

$3.70

---




Golden Pearl 132

$3.70

---




Red Copper 115

$3.70

---




Red Gold 134

$3.70

---




Reddish Brown Gold 135

$3.70

---




Transparent Blue 123

$3.70

---